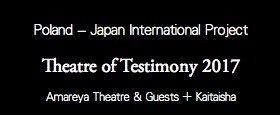 Based on the philosophy of "theatre of testimony" recently announced by Gekidan Kaitaisha, we welcome Amareya Theatre & Guests from Poland and we will perform a continuous performance by both theatre companies. Please come and visit the two performances that intersect with the inevitability and impossibility of "testimony".

Amareya Theatre & Guests

"Nomadic Woman"

■Concept and direction: Katarzyna Pastuszak

■Performers:

Louise Fontain

Katarzyna Pastuszak

Aleksandra Śliwińska

Daniela Komędera

Monika Wińczyk

Magdalena Jędra

■Technical manager:

Bartosz Cybowski

■Music:

Joanna Duda
Kaitaisha

『festum —祭りのさなか—』

Theatre of testimony - although it is not the stage which is made a prey to the script. It proof that it is an animal still having a "face" while making it confess through "dead language" that the Jin-tai(live human) is a human remains.

■Artistic Director: Shimizu Shinjin

■Performers:

Kumamoto Kenjiro

Hino Hiruko

Nakajima Miyuki

Aota Reiko

Jonathan Giles Garner

Ishii Yasuji

Yabe Kumiko

Moli Ayaka

Hirachi Yasuhiro

Morisawa Yuichiro 

(Peachum Company)

Alexandra Rutter  

(Whole Hog Theatre, UK)

Sugiura Chizuko  

(Radomama produce)

■Staff

[Choreography] Hino Hiruko

[LX] Kawai Naoki/ Anbiru

[Sound] Jonathan Giles Garner

[Technical manager] Suzuki Kosuke

[Text] Sasaki Katsumi

[Flyer Design] Studio Terry "overground"

[Company Manager] 

Morisawa Yuichiro

[Produce] Gekidan KAITAISHA
Schedule

2017. Dec

.

8 [Fri.]/Doors Open19: 15, Start

19: 30

9 [Sat.]

/

Doors Open18: 15, Start

18: 30

★12.9 post talk

M.C.: Otori Hidenaga (theatre critic)

Iinterpreter: Krzysztof Żabko-Potopowicz

※The reception start is 30 minutes before the opening and the door open is 15 minutes before the opening.

※On the structure of the theatre, you may not be able to enter the theatre after opening. Please come as soon as possible.

Space

Sanaizaka Studio (Ichigaya, Tokyo)
Ticket

¥ 3,000

※Because of the schedule, the number of seats is very limited. Please be sure to reserve as soon as possible.